:: web site development/maintenance :: | view customers |

We take our business seriously.

There are many different levels of technology a web site can encompass today. Whether you are an entrepreneur looking to test the e-commerce waters, a brick and mortar store looking to put your entire retail catalog online, or simply already have a web site that doesn't meet up to today's standards, please contact us today.

We have the know-how, experience, and trained developers to provide you with the best internet solutions available utilizing the newest and best-proven technologies for web site development.

We specialize in:
Complete professional web design services

Web sites designed for search engine optimization

Search engine optimization

Make-over of existing sites

Business Presentations

Web sites from brochures

Sports web site Profiles

Personal web site Profiles

Testing of web sites on various browsers

HTML & JavaScript

MS SQL Database driven web sites

User name/password protection

ASP web site maintenance

Shopping carts / E-commerce solutions

Web site maintenance - Webmaster Services

Consultation on your specific design needs

Logo Design

Photo Scanning

...and more
Who could benefit from a web site?
lawyers

doctors

clothing stores

tanning salons

jewelers

real estate agents

restaurants

your online resum?/font>

antiques for sale

financial advisors

construction companies

sports teams

wholesalers

entrepreneurs

you?
We are not a "fly-by-night" web site design company. Our web designers and web developers are extensively trained in their specialized field. We do not have a Wall Street office, nor do we have much overhead. This allows us to offer you the most competitive web site design prices available.
After we develop your web site, we look forward to a long lasting business relationship. We are capable of handling all of your daily, weekly, or monthly updates.
Please let us know if you require help registering your domain name (www.mycompany.com). We also offer web site hosting and email for your company. These services are only offered to our customers.
:: TESTIMONIAL ::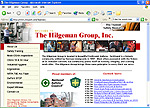 My company was looking to completely overhaul our existing website. We wanted to change the overall look, content and organization of the site. After looking at the web design work of many designers, we decided that Jason Levy at jplwebdesign.com was the best. After working with Jason for just a short period of time, we knew we had made the right decision. Jason was very attentive to our needs, paid particular attention to the details, and gave us valuable insight into some aspects of our site that we had never even thought of. Jason gave us a site that truly represents our company and is something we are quite proud of. The fact that Jason is in New Jersey and our firm is in Indiana made absolutely no difference - the net makes the world an even smaller place and Jason made everything seamless. We look forward to continuing our relationship with jplwebdesign.com with monthly site updates, banner ads, and web hosting.

Larry W. Hilgeman, MS
President
The Hilgeman Group, Inc.

Contact us today!
More importantly, CEBM reports that
louis vuitton replica
GDP per capita has reached the $4,000 level.
swiss replica watches
, consumption of automobiles, travel and education rises when GDP per capita reaches $3,000. At $4,000, the
omega replica
class begins to dominate overall consumption and drives growth in consumption.Luxury
replica watches
are an area that has experienced some of the sharpest increases in recent years. According to
chanel replica
, total sales for the domestic luxury market totaled $10.7 billion as of March, up nearly 14 percent
replica handbags
. China has become the world second-largest market for luxury brands behind Japan accounts for almost 28 percent of all luxury brand
replica louis vuitton
. CEBM forecasts total luxury brand sales could increase to $14.6 billion in 2012, making
chanel replica
the world largest luxury brand market.